We are Mimi and Patches.

I will speak furst! Age before beauty, mew know? Not that I don't have beauty but I am the furMeowmie to Patches, who shares this page wif me.

And from an earlier litter, I had Bootsy. He's on another page. Mew will find his link off the home page.

But my youngest was Tyke. Then I was taken in by my furefur Meowmie...the ofur home had decided to move and leave me behind. And they didn't bofur to see to it that I didn't have more kitties. Well, my new Meowmie took care of that furst thing! Nofing like mofing in to a new home and hafing surgery right away. Anymews, I am not broken now but "fixed" says Meowmie.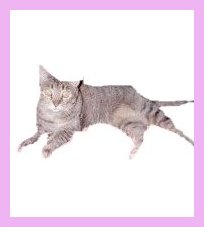 Mimi

I don't do much but efury now and then I go to an event. Here is one I went to recently.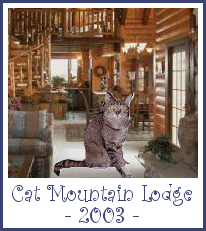 Ahem! Can I get a word in edgewise? I was at the mountain lodge, too. See?



I am Patches. I was also almost thrown away!!! Hmmmphh!!! No cat should efur be thrown away. But now I haf a furevur home and my job is to make Meowmie gif me skritches while she lies down to watch TV.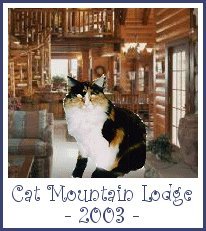 We bof belong to Claw, too.
Or return to our Home page.