"Indy"is short for Independence Day, the day I made Meowmie adopt me, July 4, 2001 and I was only 8 weeks old. If she hadn't taken mwe in I might haf been eaten by the neighborhood d*ggies. Meowmie fell in love mwe and so did some of the siblings here. Some didn't but that is anofur story.

She calls me her wild child. But I ask you, do I look wild?
---
---
---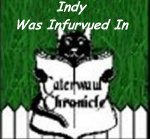 Read my infurview.
---
---
---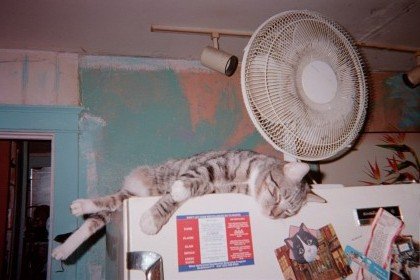 ---
---
---
Mew can see that I am just peacefully resting on the top of the refridgerator. And if I were so wild, would she haf taken mwe in? No. So I rest my case. I am the most actif of the ebersocats in the house but I hardly do anyfing on the puter, except sleep. Now, how wild can I be? And efen if I am...I am quicker than Meowmie's camera.